We tell you how to create beautiful visual content for your website or blog easily using free tools that you can even automate with, saving you time and energy while allowing you to be creative.
When it comes to content creation, there are many creative options to give your space that extra edge you need to engage your audience. And you don't have to spend for it, many good tools are totally free. Here are some of my favorites. Just follow these tips to make your content stand out.
If you are a content creator or a content marketeryou should know that Canva is a free tool for creating visual content. It's so easy to use that it will only take you a few minutes to get the hang of it. There are several templates to choose from, and you can customize texts, fonts, backgrounds, images and even videos.
Desktop and mobile versions are available free of charge.There is also a Pro version, which allows you to access unlimited resources, organize your designs in folders, create your branding kit and more. The best part is that you can share the pro version with five members of your team at no additional cost.
With Canva you can create content for your social media profiles, websites and more, and schedule it for sharing. You can even send your designs to print from the platform, customize office templates or design personal invitations. offers other features, such as video creators, letter editors, multimedia presentations, checklists and more. Once you've created a design, it's easy to collaborate with others or share your finished project with the world.
A good way to connect with your audience is through that language that only you and your target audience understand and appreciate, a wink that is achieved with a good GIF. And in Giphy you can find thousands of free gifs to choose from.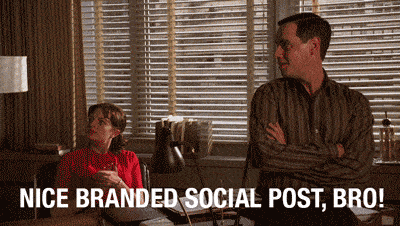 It's a free tool you can use to create your own custom GIFs and share them on a wide variety of social media platforms. With an easy-to-use mobile app, you can create GIFs on the go and on the website you can use the search engine to find thousands of options sorted by category and trend.
In addition to GIFs, Giphy is also an application that allows you to create a variety of animated images. It allows you to upload images and videos to add text and other decorative effects. GIFs are most popular on social networking platforms, such as Facebook, and can be shared directly through the comments section. The site is also compatible with popular email programs. If you don't want to use Giphy, you can also download the application GIF maker free of charge.
We know that communication in each social network is different, and the amount of video/image vs. text varies a lot in each one and in each one. PiktoChart you can find what you need for everything from infographics to videos.
With Piktochart you can create beautiful graphics and infographics, it's the right tool for you. It features drag-and-drop templates that speed up the creation of your charts and has built-in SEO to index your content in search engines like Google. You can also customize professional-quality graphics, presentations, and interactive maps to create more compelling visual messages. You can also use it to edit videos, with embedded subtitles in more than 60 languages.
So you can use Piktochart to create attractive graphics, posters, charts and other content for websites, social networks and more. It's free to use and has six million users, which means it's worth a try.
There are many free tools available for creating content using Google Photos. The Assistant is an integrated tool that can work with your photos to automatically create short videos and animations.
It is a online video editor that bridges the gap between presentations and videos. The tool allows you to create a short movie or animation in minutes, which is a great way to engage your audience. RenderForesta cloud-based video and animation maker, is another option for creating videos and animations.
You can use iMovie to create high-quality videos on the fly. It's an easy-to-use application for Mac, iPhone and iPad. With a simple drag-and-drop interface, you can trim clips to the length you want and add seamless transitions. In addition, it supports ProRes video and Apple ProRAW images. The application's advanced video editing features will help you create the perfect story.
With iMovie, you can create custom titles and credits. These titles can be placed on top of photos or videos, or over gradients. In addition, iMovie allows you to edit and adjust the duration of the background, add graphics and even create green screen effects.
With the help of Google Trendsyou can investigate and create content based on your target audience's search queries. By knowing what your audience is looking for, you can create content with a solid marketing strategy in mind. The more you know about your audience, the more likely your business is to succeed and develop a loyal customer base. Using Google Trends is a great way to get started. The service also allows you to drill down and discover which topics are trending.
Another benefit of Google Trends is the ability to to monitor seasonal trends. People's search habits change with the seasons. With this information, you can develop targeted content based on these changes and incorporate relevant keywords into your content. Using keywords that have a low search volume will help your content rank higher in Google. And if you use trending keywords wisely, you can even rank for low-volume keyword phrases. By knowing what keywords people are searching for, you can make your content more relevant to your target audience and increase your reach.
One of the free tools that are invaluable for a content marketer is Google Docs. The program not only allows you to write content in your own style, but it also tracks word count as you write.
A great feature is that it allows you to share content with other collaborators in real time, so you don't have to download, send and create different versions for each edition. You can even work offline and the program allows you to keep track of each version of your document, including who did it and when.
In addition, the content is stored in Google Drive where you can upload any type of file with 15 GB of free storage.
BuzzSumo is a content research tool that analyzes your content and compares it to best practices and the content of high-ranking competitors. It then makes recommendations on how to improve your content, including keyword optimization, readability and word count goals.
The great thing about BuzzSumo is that it's free for the first 10 searchesso use it wisely, even though it costs only $79 for an annual plan.
Another free tool for content creation is Triberr. You can use Triberr to find influencers in your niche or to promote your own content. Triberr is extremely simple to use and is an excellent alternative to Buzzsumo. Both tools help you promote your content and Triberr is an excellent alternative. You can use them to find content topics that resonate with your audience.
Here are the most used and top-ranked free content creation tools. Which is your favorite? What others do you use?